DJ, Master of Ceremonies.
Providing entertainment for wedding reception, anniversary party, or corporate events is so much more than just playing music. It means seamlessly becoming a part of the event, putting people in a celebratory mood, and making the important announcements that keeps the event flow going smoothly. I play the music that makes the room and dance floor come alive, while being enthusiastic, flexible, and creative enough to handle the Master of Ceremony duties.

The typical reception event flow for the wedding reception is below, but this is very open to customization as the perfect day is different for everyone.
· Entrance of the parents, wedding party, and happy couple at the reception.
· The "official" dances: bride and groom, bride with her father, groom with his mother, wedding party as a group, ect.
· The switch to "open" dancing for everyone.
· The switch from cocktail hour to dinner service.
· The wedding toasts.
· The cutting of the wedding cake.
· The bouquet toss and garter toss.
· The anniversary or money dances.
· The departure of the happy couple for their honeymoon.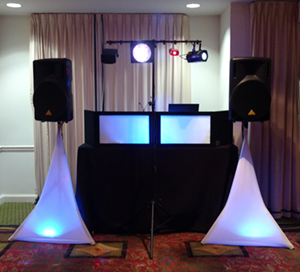 I offer affordable packages for any budget.
Services range from 4 hour DJ services to full-day packages with the DJ acting as Master of Ceremonies.
All packages include a full sound system, laser lighting, music request books, and a music selection from over 150,000 songs. We can accommodate the music needs of your event exactly to your vision with a custom playlist, as well as work with you ahead of time to discuss any special requests you may have.
Our schedule is filling up fast, call or text (720) 734-6980 or email mike@ourwedd.com today for more information and rates. I have flexible office hours and can accommodate to your schedule. We can either meet at my office or I can travel to you.